About Me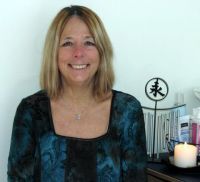 Rita Ammons is a graduate of CCMT and has had her own thriving practice since 2007. She is a Medical Massage Therapist, and a Structural Energetic Therapy® Practitioner.
Also a practicing Reiki Master for 17 years, Rita is an active member of the Int'l Center for Reiki Training. She continues to hold monthly Reiki Shares, and Reiki classes.
She is a CT licensed Massage Therapist; and is an active member of the American Massage Therapy Asssociation. She continued with her studies to become a medical massage therapist.
Rita continues to pursue a plethora of continuing education opportunities to fine-tune her skills. Beyond her impressive credentials, Rita has her own story that has evolved into a passion and mission to help others feel better.
In 1987 she was involved in a bad car accident that left her in chronic pain from nerve damage associated with RSD. A friend suggested she try a Reiki session. She was surprised at the pain relief she received, and over time she felt better. So powerful was this experience for her, she pursued the study herself and became a Master Reiki Practitioner.
"Reiki was the catalyst for a new spiritual life," says Rita. "I got better. I don't know why I did. I shouldn't have. Now I want others to feel better. I want them to get better. My goal is to help others in any way I can."
She went on to pursue Massage Therapy; and after setting up her practice, she went on to continue her education to become a Medical Massage Therapist. This type of massage is "outcome-based", and is primarily performed with the intent of providing lasting pain relief and improving conditions that the client presents, or that is doctor-diagnosed.
When she isn't learning the newest techniques and modalities to integrate into her practice, she enjoys
medieval dancing and yoga. In the summer, you can find her outside at local beaches and parks!
Rita genuinely cares about her clients and her community. Reaching out to volunteer her time and talents at local charity events, she has offered massage to participants at the Hole in the Wall Camp's Angel Ride, at various American Cancer Society's Relay for Life events, and at Arthritis Foundation fund raisers.
Growing up in Norwich, Rita continues to make it her home and place of business. She welcomes new clients from throughout Connecticut, and offers free consultations.